Herschel astronomers explaining to GCSE students at Monkton Combe Senior School how and why they got involved in astronomy in the first place
The Herschel Team has developed a number of space and astronomy activities for use in schools, all related in some way to the Herschel Space Observatory. The UK Herschel Team are now offering these activities to schools nationwide. The lessons are available for a range of ages, and use information and images from this amazing satellite, currently operating 1.5million km from Earth. Most activites work best with Herschel astronomers and scientists present, though documentation is in development to allow them to be used independently by teachers.
There will be a small nominal charge to cover basic costs, depending on the distance of the school from the nearest available Herschel Institution. Please contact us for more information.

The currently available activities, along with the recommended age groups, are (click to skip to more information). Some activities also have downloadable resources.
All activities are related to the syllabus at all stages, and professional astronomers and physicists are available to present the lessons, which use a combination of presentations, interactive discussion, work sheets, and online/ICT resources. Every session can be tailored to the needs and requirements of the school/class. The possible time commitments are very flexible – from one lesson (~1-2 hours), to a day, to a number of days.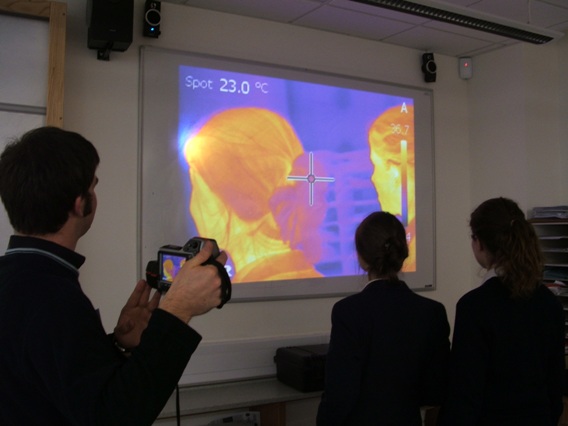 Monkton Combe Senior School GCSE students looking at themselves using an infrared camera
Sam Chilcott, Head of Physics at Monkton Combe Senior School, near Bath, said:
"The team put on a magnificent programme of workshops, lessons and lectures which I would recommend to any school wishing to inspire their pupils into the wonders of space. All the presenters were excellent communicators, and were clearly passionate and knowledgable about their subject. We were incredibly lucky to have such a dedicated and approachable team come to the school, and the pupils are still fired up about space and their visit even now. The props and range of lessons offered made all the sessions very appropriate to each age group. It is fantastic to have scientists such of these, on the cutting edge of research, to come and engage with the students".
For more information, or to book a session of any length, please contact Dr Chris North, or use the "Contact Us" form.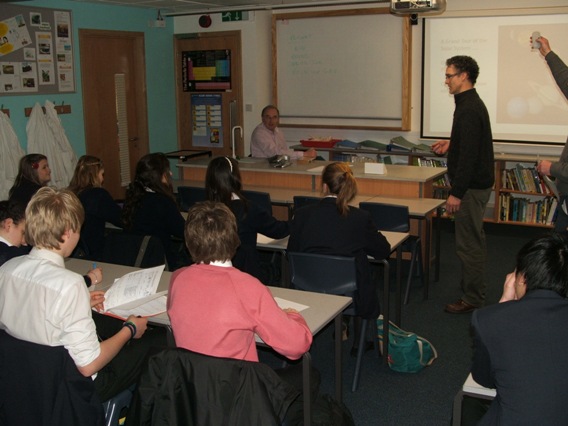 Key Stage 3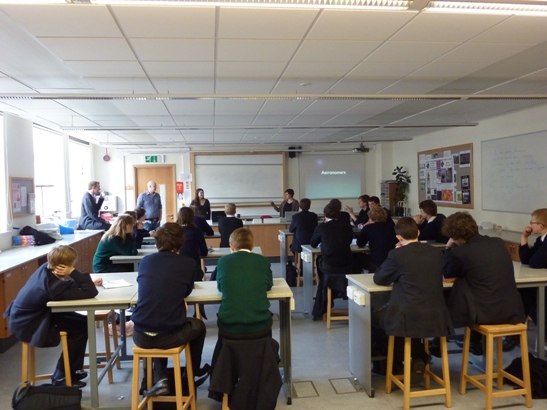 GCSE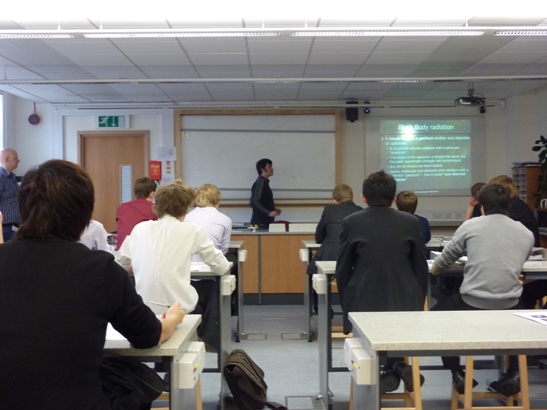 A-level Students at Monkton Combe Senior School taking part in sessions for a range of ages.
Session Descriptions
The Herschel Space Observatory: Science vs Engineering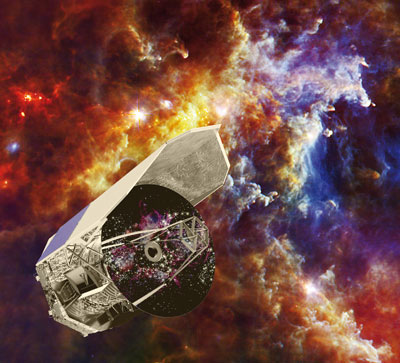 Recommended Ages: 14-16 / 16-18
Explore why the Herschel Space Observatory was launched and what key questions it is answering. Investigate the design and construction of the Herschel Space Observatory, learning about the scientific requirements of the astronomers along with the restrictions provided by the rocket engineers. Using a set of realistic criteria, choose your own launch site for Herschel, and work out how fast it has to travel.
.
What is the Universe made of?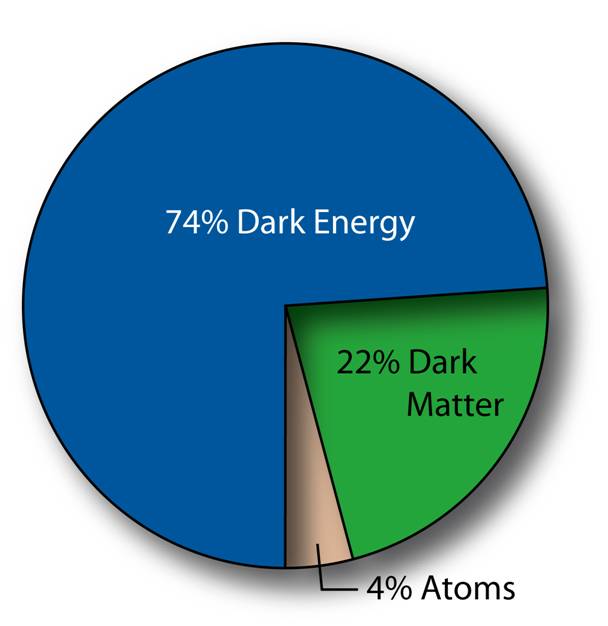 Recommended Ages: 16-18
The material we can see with telescopes makes up a tiny fraction of the whole Universe – less than 1/20th. Using Newton's Laws of Motion, investigate some of the evidence for this – and our current understanding of what it all means. Using interactive simulations of the Universe as we understand it, determine the composition of the Universe.
.
Multi-wavelength Universe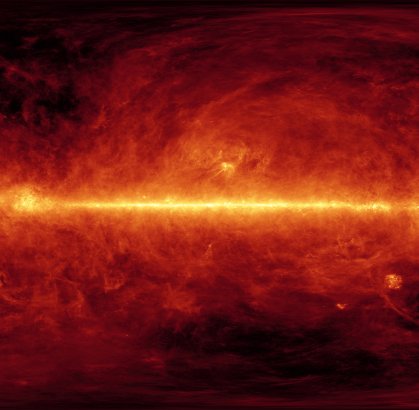 Recommended Ages: 11-14 / 14-16 / 16-18
What we see with our eyes is only a tiny fraction of the entire electromagnetic spectrum. Explore the world around us at different wavelengths, using an infrared camera to provide a thermal image of the classroom. Investigate the uses of different wavelength regimes in astronomy, and what they tell us about the Universe. Identify different objects based on their appearance at different wavelengths, and perform a mini research project on one particular object. Optionally, produce a poster using the information gathered.
Click here to download related resources.
.
Space Dust and Meteorite Impacts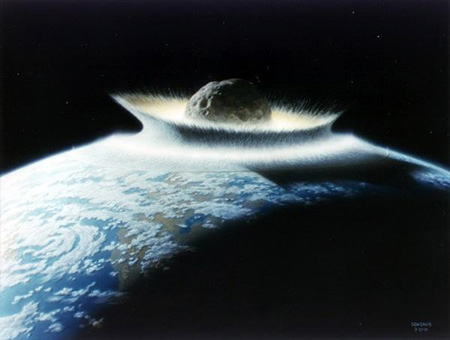 Recommended Ages: 14-16 / 16-18

When we look up in the night sky we see stars, but there's far more to space than just burning balls of hydrogen. Laced through the Galaxy are massive clouds of gas and dust, from which the stars, planets and asteroids are formed. Find out where this dust comes from, and what it's made of. Explore what happens when asteroids and comets impact the Earth, and how much energy is produced. How big would a rock need to be to obliterate the school, the town, or the whole country?
.
Who are Astronomers?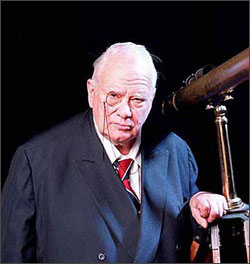 Recommended Ages: 14-16 / 16-18

Astronomers come in all shapes and sizes, but all chose to study or work in it for different reasons and through different career paths – some of which you might not expect. What made people decide to study it at University, and what are their future career plans? A number of astronomers are on hand to explain why they did it, and give an insight into what's involved in this interesting and diverse subject.
.
The Solar System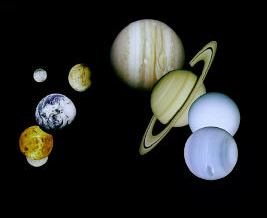 Recommended Ages: 7-11 / 11-14

The Solar System contains eight planets and a number of "dwarf planets", but these are just names we assign to them. What makes a planet? Explore the possible criteria, and debate as a group to decide whether Pluto should be called a planet or a dwarf planet? Not even astronomers agree on this one, so it's worth having an open mind.
.
What is Infrared?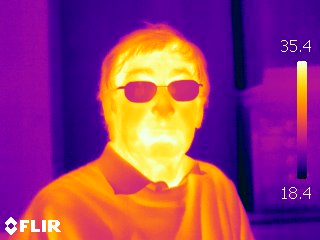 Recommended Ages: 7-11 / 11-14

We only see the world from a particular viewpoint – notable with our eyes using visible light. But what about invisible light – what can we see if we use that? What kinds of objects emit most light? Explore the meaning of the infrared, how the world – and people – look different. Find out why it is very useful for astronomy, as well as other uses right here on Earth.
.