Below are the files required for some of the educational activities. More will be added in the near future.
---
Multiwavelength Universe
An activity introducing multi-wavelength astronomy. The main part is an activity where students match up images objects at different wavelengths. A powerpoint presentation is included. The activity is suited to KS3, GCSE and A-level, but can be used at "science clubs" with students of those and younger ages. The quesion sheet assumes students are using the online activity.
If you would like to use the paper version, then you will need:
Documentation is always being added, so check back later, or contact us to find out more using our contact form.
Design a Space Telescope
An activity for designing a space telescope, ideal for groups of students or individually. Students use the information in the student guide and an interactive Excel spreadsheet to design a space telescope, and produce a proposal. Separate student documents are available for Key stages 4 (14-16) and 5 (16+). This activity is under development, and any comments or questions are welcomed.
As well as the online version, there is a version using Excel spreadsheets and printable documentation. The resources for that are below:
Heaven's Kitchen
A tool originally designed by the University of Oxford, for exploring the contents of the Universe. Warning: It requires Java to run, and is an 800MB download!
Origin of the Chemical Elements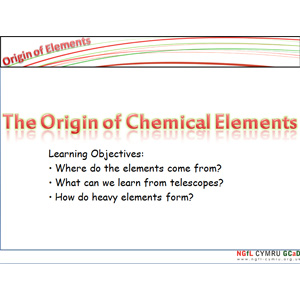 The National Grid for Learning in Wales (NGfL Cymru, now HwB) have produced an educational resource which uses Herschel results to explore the origin of the chemical elements. There is an interactive powerpoint presentation, as well as a reduced version of Chromoscope which shows only a selection of the wavelengths.