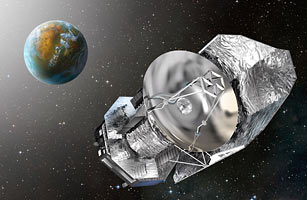 Alongside teleportation and the AIDS vaccine, the Herschel Space Observatory has been voted one of the greatest inventions of 2009 by Time magazine.
Herschel is placed at number 7 in the list of 50 inventions, which also includes the Electric Eye and the Personal Carbon Footprint. Herschel's position on this list is a tribute to the dedication and innovation of the hundreds of scientists and engineers involved with the project, including many in UK supported by STFC. Professor Matt Griffin of Cardiff University, Principal Investigator of the Herschel-SPIRE instrument, said "The Herschel team is delighted and proud to have their hard work and achievements recognised in this way. Herschel is already starting to demonstrate its scientific power, and its ability to probe the origins of stars and galaxies is exciting a great deal of interest."
Time magazine have also produced a video article on Herschel, featuring Paul Goldsmith, the NASA project scientist on the Herschel mission.