We are now twenty five days into the mission and tests on the instruments and spacecraft have gone very well.
Telescope and spacecraft
The telescope has been kept "warm" at 170 K for decontamination and outgassing, and the pointing system has been successfully checked out.  Now the heaters have been switched off, and once the telescope has cooled to about 120 K (June 14th) the cryostat lid will be removed [Link to mission timeline page].  Herschel is now over 1.3 million km from Earth, and moving away at a speed of more than 800 km/hr as it continues to cruise to L2.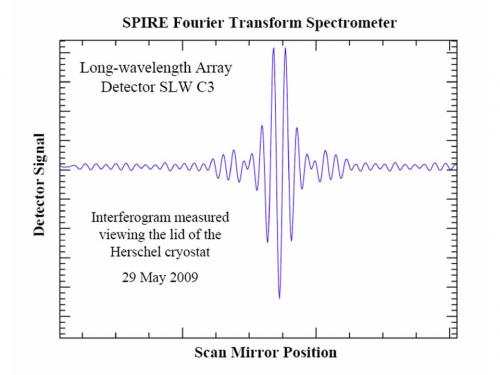 SPIRE
All aspects of SPIRE have now been checked out and everything works as well as on the ground or better.  The instrument's internal source has been used to shine submillimetre light on all five detector arrays, and the spectrometer has been making measurements of the inside of the cryostat lid.  Example data are shown below – to the SPIRE spectrometer experts, results like this show that the instrument is performing superbly.  SPIRE's internal cooler has been operated several times, and works better every time as the Herschel cryostat has been gradually cooling.
PACS
Most of the initial testing is finished, with all working well. Still to come is the first operation of the PACS cooler – no problems are expected as it is of an identical design to the SPIRE unit.
HIFI
HIFI has undergone a series of tests that show the functionality of its detectors, mechanism and electronics units, all of which work fine.  HIFI has local oscillator sources, which allow it to "tune into" the emission from a particular atom or molecule in space, just like a transistor radio tunes into a radio station.  These have also been checked out and are all behaving just as they did on the ground.